Janice Wessels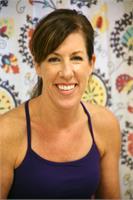 Janice Wessels instructs the following:
Group classes are perfect for students with some pilates experience who enjoy the energy of a group setting. Equipment includes the reformer, tower and wunda chair. Group classes are comprised of no more than 7 students with similar fitness levels and schedule.




This class is designed to give you the strength training of TRX, the stretching & flexibility of Pilates and the core stregthening of both. This class is open to 8 people. 4 will begin on the TRX and 4 on the Pilates equipment for 30 minutes, then switch places for another 30 minute workout. This is a fantastic workout!