Pilates
Pilates is a sequence of exercises using the body as a whole to simultaneously stretch, strengthen, tone, and align the body. It improves strength, flexibility, balance, control, and muscle symmetry while eliminating excess tension and strain on the joints. Workouts are performed on specialized, spring-based resistance equipment which helps build core strength and toned muscles. It is the mind-body connection that truly makes Pilates unique.

Yoga
Yoga is an ancient practice with modern applications. Some of its many benefits are increased flexibility, stamina and endurance; improved balance and strength and a sense of equanimity. Yoga encourages everyone to move at an appropriate pace for their body, without competition or judgment. Try it today and strike a pose at The Studio.

Spinning®
Our SPINNING® program is tailored to suit a wide range of abilities and fitness goals, it delivers a personalized, calorie-burning, energizing and fun workout, all at a self directed pace. The Studio is an Official SPINNING® facility.
TRX Suspension Training®
Born in the Navy SEALS, Suspension training body weight exercises develops strength, balance, flexibility and core stability simultaneously. It requires the TRX® Suspension Trainer™, a performance training tool that leverages gravity and the user's body weight to enable hundreds of exercises for every fitness goal.
Get a fast, effective total body workout.
Benefits people all fitness levels (pro athletes to seniors).
Studio Policies
Please arrive on time to your scheduled class
Please turn off cell phones during class
There is a 24 hour cancellation policy
Please contact us if you have any questions or concerns
We appreciate and reward your referrals
Equipment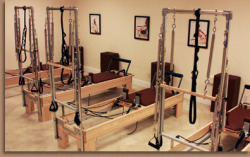 The Studio offers only the best when it comes to fitness equipment.

Balanced Body has produced the finest pilates equipment for over 30 years and are the largest manufacturer of pilates equipment. The Studio is proud to say that our studio is fully equipped with Balanced Body equipment.


Experience the energy and excitement of SPINNING® class with Spinner® Bikes – the only bikes designed for the SPINNING® program.
TRX® Suspension Trainers™ created by Fitness Anywhere LLC. The original creators of the TRX Suspension Training System®